Two baby giraffes born at Animal Kingdom
10/15/09
The 13th and 14th giraffes born at Disney's Animal Kingdom arrived this month, only a week apart. Bruehler and Bolo, both feisty boys, were delivered by their mothers Aibuni and Big Girl, on October 5 and 12, respectively.
Bruehler weighed in at 166 pounds and nearly six feet tall. Bolo was about the same height, but "only" 153 pounds. Both were born after the typical 15-month gestation.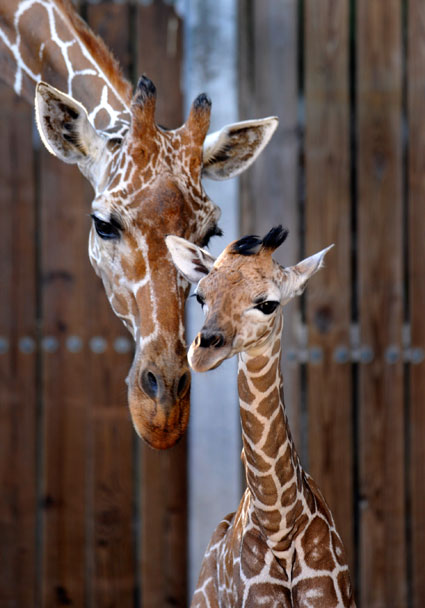 The boys can expect to grow to between 15 and 18 feet tall as adults, when their necks alone will be as long as they currently are tall.
Matt Hohne, animal operations director for the park, said "the next important milestone is for the calves to continue the bonding process with their mothers, who will teach them important lessons and guide them as they are introduced to the herd in the coming weeks." It will be that long before the newborns can be seen by guests, either onstage at the Kilimanjaro Safaris attraction, or in one of the savannahs at Animal Kingdom Lodge and its DVC property, Kidani Village.
More Info: Disney Conservation Blog post