White Rhino Born in Uganda to Animal Kingdom Native
7/16/09 The first white rhino born in Uganda in almost thirty years can trace its lineage to Disney's Animal Kingdom. The rhino, named Obama after the U.S. President, was born to Nande, a southern white rhino donated by Disney to the Ziwa Rhino Sanctuary in 2006. Like President Obama, the calf's father is Kenyan. If the calf had been a girl, Sanctuary officials would have named her Michelle after the first lady. The baby was born June 24, but the protective mother did not allow Sanctuary workers near enough to determine the gender of the newborn until several days later.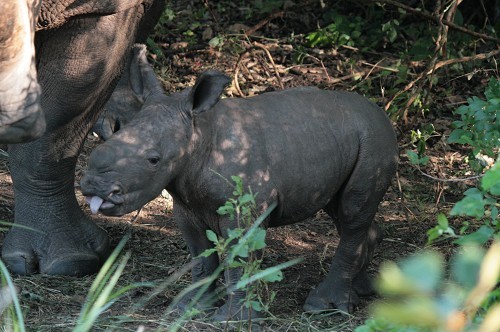 White rhinos are endangered throughout the world, due primarily to poaching. Disney makes reference to this in the Kilimanjaro Safaris attraction, as there are rhino horns at the poachers camp. In Uganda, however, where no rhino has been seen in the wild since 1983, a significant cause of their local extinction was the civil unrest that accompanied the reign of the dictator Idi Amin.
In the eastern African region comprised of Kenya, Tanzania, and Uganda, fewer than 1,000 rhinos (white or black) are alive today. The Rhino Fund Uganda was founded with the intent of bringing back the rhino population. Loaned or donated rhinos are bred at the 27 square mile Sanctuary with plans for release into the country's national parks. In addition to Nande, Disney donated Hassani, her brother, at the same time. The pair joined the original four rhinos at Ziwa that arrived from Solio Ranch in Kenya in 2005.
More Info: Rhino Fund Uganda, which relies entirely on private financial support.
Or see the official Disney press release.